Social Security Risk Score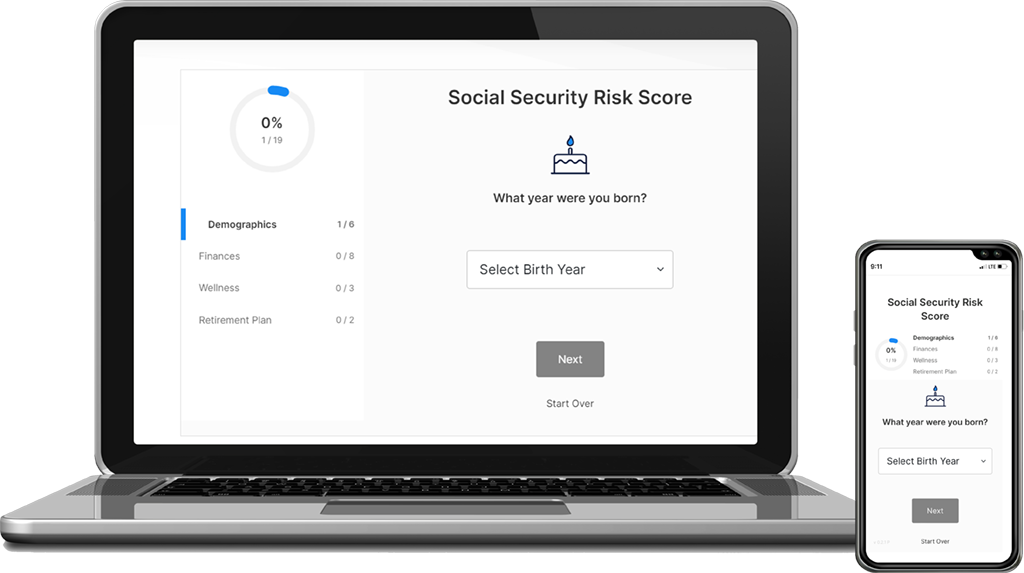 Assess your likelihood of a reduction to your Social Security benefits for FREE today with the Social Security Risk Score!
The Social Security Administration has disclosed that future reductions to Social Security benefits are possible, if not probable.
By 2033, the payroll taxes collected will only be enough to pay 77% of scheduled benefits. Consequently, every American faces the risk that their promised Social Security benefits may be cut by 23% in 2033.
Are your promised benefits at risk?
How You Could be Affected
10 Million+ Retirees paying higher Part B Premiums by 2030. Widespread implementation during the Pandemic.
Raise Full Retirement Age
The last time the Trust Fund faced insolvency, Congress chose to increase the Full Retirement Age, reducing benefits at earlier ages.
Younger generations accept higher tax rates combined with partial benefit reductions for older generations.
Get Your Social Security Risk Score
Calculate Your Likelihood of a Reduction
Complete a FREE assessment to determine your level of risk.
Get Insights on Your Unique Situation
Identify and analyze potential impacts to your retirement plan.
Learn Strategies to Mitigate Your Risk
Meet with your financial advisor to discuss your retirement plan.
Social Security Risk Score Report
#1 Trusted Social Security Risk Analyzer